BUILT BY AUSTRALIANS FOR AN AUSTRALIAN CLIMATE
Seeley International is proudly a 100% Australian owned company, designing and manufacturing world-leading Commercial air conditioning solutions for Australia and the world. We're dedicated to strengthening the Australian economy and supporting local employment.
Being made in Australia, you can rely on consistency of supply, build quality, availability of parts and after sales service.
Combined Solutions to suit every application
Seeley International specialises in providing custom designed solutions covering an exceptionally large range of flexible configurations capable of cooling and heating small, medium and large commercial and industrial spaces.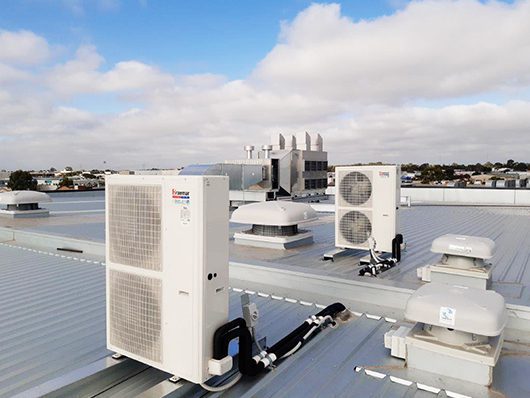 Offering:
Hybrid Heating & Cooling Systems
Energy Recovery
Cooling & Heating Systems
Supplementary Cooling
Pre-Cooling
Bespoke Solutions
Reverse Cycle Air Conditioning*
Dramatically reduce energy consumption and cooling costs by incorporating Braemar Industrial Coolers, AIRA gas heaters or Climate Wizard into HVAC system design.
REPLACE STALE AIR AND MAINTAIN COOLING PERFORMANCE

Climate Wizard™ by Seeley International® offers ground-breaking new technology within its series of indirect evaporative air conditioning products for commercial and industrial use with its flexible management integration.
Climate Wizard Micro-Core™ 
Continuously introduces cool, fresh, outside air into the space without compromising cooling performance
Can be retrofitted to existing air conditioning systems
No high electrical demand charges, even in hot weather
No moisture added to the air**
ACCESS OUR ONLINE SIZING TOOL FOR COOLING PERFORMANCE
*Braemar VRF is imported and distributed by Seeley International
**Climate Wizard Supercool (indirect/direct option) adds a small amount of moisture to the supply air